Information Security Essentials
Information Security Essentials
Offered By
پیشکش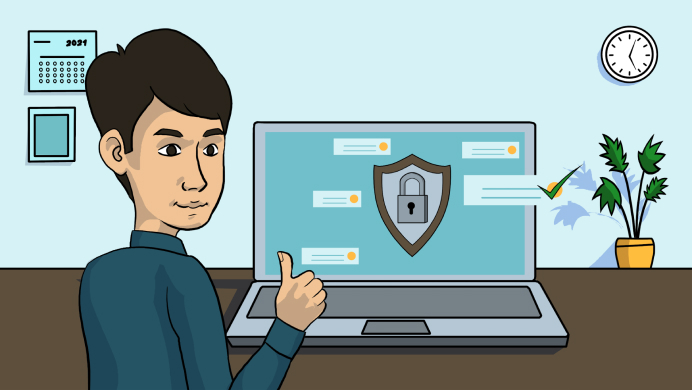 About this training
Has it ever happened that you've connected your phone to a public WiFi when you're out? Perhaps when you're at the doctor's office, or on that long Daewoo trip to your cousin's home? This is especially common nowadays, during the pandemic, when everyone's been working from home and carrying their work devices with them. However, do you also know that using public WiFi without precautions can be really dangerous for your and your company's data? According to a 2018 study, globally, the average cost of a data breach was $2.86 million. That's a high cost for any company.
In this training, you're going to learn about some of the most common threats to our personal data: social engineering attacks, malware, and network security threats. Then, you're going to learn how to tackle them, going through our list of best practices and security recommendations!
Learning Objectives and Outcomes
By the end of this training, you will be able to:
Identify the different kinds of risks, cyberthreats, and vulnerabilities that can make users susceptible to attacks.
Understand the need for following information security principles.
Assess your behavior as safe or unsafe as according to information security principles.
Install and effectively use online and offline security tools.
Follow best practices regarding information security solutions to keep their personal and organizational data safe.
Offered By
پیشکش
ilmX
Start Date

تاریخِ آغاز

Language

زبان

English
Outline
Why does information security matter?
In this section, we're going to introduce you to the basics of the topic. Why is protecting your data important? Why do you need to exercise extra caution when you're working from home? And, what can happen in the event of a data breach? You'll find answers to that and more, right here, in the following units:
What is InfoSec?
Why is it important?
What can go wrong?
10 minutes to complete
What are the threats?
The previous section was only to get you warmed up. In this one, we'll introduce you to the entire reason our information security principles become so important: the threats! You're going to learn about some of the most common ones, and how you can be exposed to them. And, your InfoSec skills will be tested in our interactive Phishing Activity, so you can check whether you're as cautious as you think you are. Be prepared to learn about:
Social Engineering
Social Engineering (Tailgating)
Malware
Network Security Threats
Sources of threats
Warning signs
20 minutes to complete
How can I stay safe from them?
All right, we hear you, we've scared you enough. In this section, you're going to learn how to stay safe. What you'll find are some of the most common — and best — fixes for your InfoSec problems, as well as their best practices. Gear up, because you're about to add the following tools to your InfoSec arsenal:
Antiviruses
Password management
Multi-factor Authentication
Virtual Private Networks
25 minutes to complete
Frequently Asked Questions (FAQs)
What is the passing grade for this course?
The passing grade is 70% on the final assessment of the course, which is given some time after you've finished the course itself.
Will I receive a certificate for successfully finishing this course?
Yes, you will receive a printable version of the certificate in a PDF form! It will contain your name, and the name of the training you've completed.
Is this a 100% online course?
Yes, it is 100% online. You cannot take the course in an offline format.
Will I be able to access the course material after I finish the course?
Yes, you will be able to access the course material. However, the scores for your assessments, and completion rates for course materials, will not change.