Workplace Safety and Hygiene
Workplace Safety and Hygiene
Offered By
پیشکش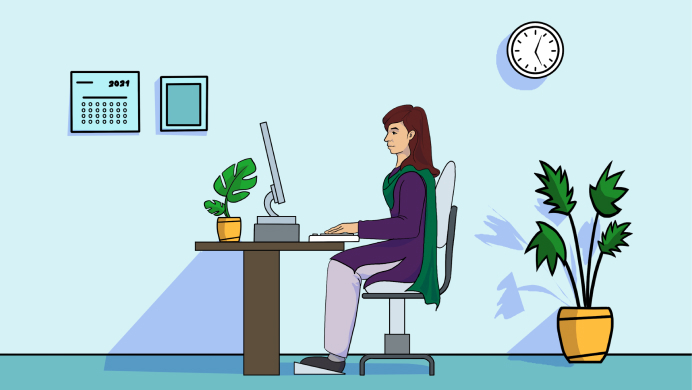 About this Course
Every year, 430 million people get affected by work-related injuries or illnesses. In Pakistan, specifically, people working behind desks make up for 4% of the whole country's work-related injuries. In fact, it is quite common to see people under-equipped or rash when it comes to looking after themselves. Colleagues might have the flu and choose not to wear a mask; janitorial workers may use harsh cleaning solutions without wearing gloves; gardners are often perched on the top of tall ladders without any safety equipment!
In this training, we hope to correct all of that. Whether it's illnesses, injuries, hazards, or emergencies — we've got you covered! You'll learn how to work in a manner so as to avoid getting hurt; figure out routines to stay sanitized; and be more understanding of the need for emergency drills. After taking this training, our hope is that you'll be able to care for often-overlooked aspects of your health, and feel a lot better over the course of your work life!
Learning Objectives and Outcomes
By the end of this training, you will be able to:
Explain the necessity of being safe and hygienic at the workplace.
Recognize some of the common kinds of workplace hazards and their sources.
Adopt attitudes, habits, and best practices to keep yourself safe from these workplace hazards.
Understand the importance of workplace emergency drills and first aid.
Use your knowledge of best hygiene practices to keep yourself safe and clean.
Offered By
پیشکش
ilmX
Start Date

تاریخِ آغاز

Language

زبان

English
Outline
Biological hazards
Here's where we begin, covering the most notorious kinds of hazards out there: those that cause us illnesses. In this section, you're going to learn about viruses, bacteria, and fungi, and how to battle them, through the following units:
What are they?
How can I stay safe from them?
10 minutes to complete
Physical hazards
Often, the hazards that can cause us serious harm are those that catch us by surprise. Usually treated as mere annoyances, physical hazards have plenty of reasons to be taken more seriously. In this section, we're going to look at:
Temperature
Noise
Electricity
Slips, trips, and falls
Sharp objects
20 minutes to complete
Chemical hazards
Toxic? Corrosive? Chronic? Acute? If you've heard these words before, but aren't sure what they mean, no worries. You're about to find out in the following units:
What are they?
How can I stay safe from them?
10 minutes to complete
Psycho-social hazards
A less-talked about component of a safe workplace, the things that jeopardize your mental wellbeing are considered hazards, too. Find out which ones to look out for, and how, in the following units:
What are they?
How can I stay safe from them?
5 minutes to complete
Ergonomic hazards
Are you sitting with your back slouched? If you're guilty of doing that often, this is the section you need! Learn about ergonomics — the science of working healthily — in this section, through the following units:
What are they?
How can I stay safe from them?
Ergonomic peripherals
Discussion time!
Activity!
20 minutes to complete
Ensuring a safe and clean workspace
Final stretch! So you've been taught everything you need to stay clear of. Now, it's time to learn how to identify them, address them, and — quite importantly — make sure you can look after others, too! (Bonus: We'll be covering important matters of hygiene, since staying clean is often so closely linked to staying safe!)
Identifying and addressing hazards
Responding to emergencies
How to be a hygiene and safety role model
15 minutes to complete
Frequently Asked Questions (FAQs)
What is the passing grade for this course?
The passing grade is 70% on the final assessment of the course, which is given some time after you've finished the course itself.
Will I receive a certificate for successfully finishing this course?
Yes, you will receive a printable version of the certificate in a PDF form! It will contain your name, and the name of the training you've completed.
Is this a 100% online course?
Yes, it is 100% online. You cannot take the course in an offline format.
Will I be able to access the course material after I finish the course?
Yes, you will be able to access the course material. However, the scores for your assessments, and completion rates for course materials, will not change.