Reducing your Environmental Footprint (English)
Reducing your Environmental Footprint (English)
Offered By
پیشکش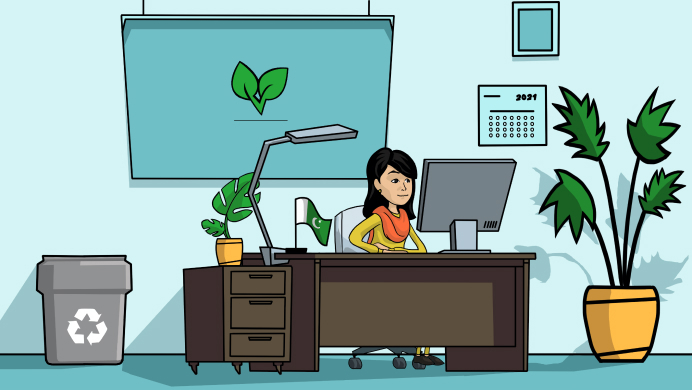 About this training
Like anywhere else, environmental problems are a growing concern in Pakistan. You might have noticed that the summers are getting hotter; that the rains are coming in stronger; and the pollution is even thicker. A few years ago, in fact, there were a lot of headlines about Pakistan's water issue. Those headlines might have faded, and been replaced by other concerns, but the problem continues.
Following from this, consumers, workers, and businesses have together become concerned about their actions. Consumers want to buy from environmentally-responsible companies, and workers want to work for such companies. This training is one step in solving that concern. In this training, you will learn how your individual actions can affect the environment at a macro level, what some of Pakistan's major environmental problems are, and how you can cut down on your personal environmental footprint.
Learning Objectives and Outcomes
By the end of this training, you will be able to:
Explain what the environment is and how our lifestyles are related to it.
Understand the danger of environmental destruction at a global and local level.
Explain how individual actions can cause environmental disasters.
Identify the contributing factors to some of Pakistan's most pressing environmental problems.
Adopt best practices to reduce your impact on the environment.
Calculate your personal impact on the environment using our personal environmental impact calculator.
Offered By
پیشکش
ilmX
Start Date

تاریخِ آغاز

Language

زبان

English
Outline
Why care?
In this section, you are going to learn why all of us need to feel responsible for how our actions affect the environment. How are we related to it? What are some of Pakistan's environmental problems? And, can our actions really affect the world on a global scale? You'll find answers to that and more, right here, in the following units:
The environment and us
The bigger picture
Pakistan's environmental calamities
20 minutes to complete
How can I reduce my impact?
By now, you will have learned about your ecological and environmental duty to the Earth. Your next question, naturally, will be: how and where should I cut down? What should I do? In this section, we have done the research and offered those answers to you. You will be put through our exciting "environmental footprint calculator," so you can figure out what your highest-impact areas are. And then, you will be able to read through our actionable suggestions for ways to cut down in five different areas!
Transport
Printing
Electricity
Waste
Minimizing your personal environmental footprint
30 minutes to complete
Frequently Asked Questions (FAQs)
What is the passing grade for this course?
The passing grade is 70% on the final assessment of the course, which is given some time after you've finished the course itself.
Will I receive a certificate for successfully finishing this course?
Yes, you will receive a printable version of the certificate in a PDF form! It will contain your name, and the name of the training you've completed.
Is this a 100% online course?
Yes, it is 100% online. You cannot take the course in an offline format.
Will I be able to access the course material after I finish the course?
Yes, you will be able to access the course material. However, the scores for your assessments, and completion rates for course materials, will not change.